Back to the "Routes"
Posted on Sat June 20, 2020.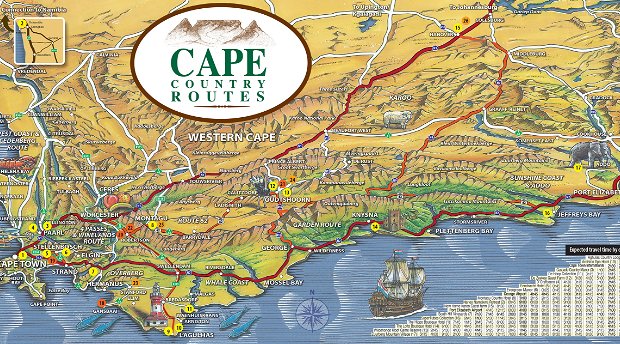 As the travel world we used to know is undergoing severe changes and the so called #VUCA world (a world marked by volatility, uncertainty, complexity and ambiguity) becomes the new reality, travel experts predict that we will soon be witnessing a #BackToTheRoutes movement, a movement towards travel along the quiet, off the beaten track and crowd-free roads. People long for freedom, personal freedom but also the desire to move around freely, spend time outdoors, witness fauna and flora unfold – enjoy nature at its best!
While the social component, truly warm hospitality that South African people are known for, will have to be adapted to what is considered as #safe social interaction, it is important to make travelers feel welcome and cared for:  A safe home away from home stay for the experience-hungry traveler who has just spent weeks and months being #lockedDown in his own home.
Cape Country Routes offers just that:  Cape Country Routes' hallmark is #Character, #Charm and #Romance, all set along the most scenic routes South Africa's Cape regions have to offer.  All Cape Country Routes members, accommodation establishments and activity products alike, are owner run and managed.  There are real people and real families behind these products.  Many of them have started off small, built their business from scratch, with a solid foundation, a sustainable and responsible vision.  Cape Country Routes is a reliable partner in tourism, the members are well established and valued by many in the industry.  After several years of experience, the many ups and downs this industry goes through, they are truly proud of their offering and eager to share it with other people, offering an opportunity to create unique travel memories. It is the sincere care, the level of involvement and being invested in what you truly believe in, that sets the group apart.
Travelling along the Cape Country Routes allows for exciting #roadtrips and complete #roundtrips within the Western-, Eastern- and Northern Cape.  The routes are all interlinking, all accessible by car with no domestic air transport needed.  Within the Cape Country Routes portfolio guests will find anything from unspoilt nature experiences, fascinating wildlife sightings and animal interaction, thrilling adventure activities to culinary delights and wellness treats.