An unmatched fusion of luxury and environmental awareness
Sibuya Game Reserve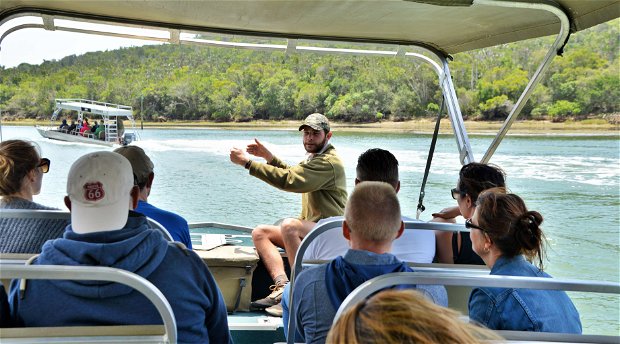 Sibuya Game Reserve, located in the Eastern Cape, welcomes you to experience an unmatched fusion of luxury and environmental awareness. A 45-minute boat ride along the Kariega Estuary kicks off your Sibuya tour, setting the stage for the seclusion and tranquilly that lie ahead. The reserve caters to a variety of tastes by providing three wonderful lodging alternatives.
River Camp offers an intimate getaway with four roomy tented accommodations. It is a retreat for families, friends, and special parties.  The rooms were created with sustainability in mind. Personal fireplaces provide a cosy atmosphere for guests, while ground-level walkways allow children to share a room with their parents. The camp's setting in a dense woodland offers a close connection to the surrounding landscape. 
At Forest Camp, where eight hidden tents provide unparalleled solitude and luxury, one finds an architecture that demonstrates a dedication to minimising environmental effect, with wooden paths protecting the sensitive ecosystem while providing glimpses of the varied fauna. 
With only four secluded thatched apartments, Bush Lodge is the pinnacle of luxury. To reach this opulent refuge, a quick boat ride from the river is followed by a wildlife drive. With en-suite bathrooms, indoor and outdoor showers, personal viewing decks, and air conditioning, each suite is a haven of comfort. The eco-friendly lodge offers vast views of the valley and a beautiful swimming pool while gently blending into its surroundings. 
Sibuya has a strong commitment to conservation activities in addition to providing first-rate accommodation. Initiatives like reforestation, invasive species eradication, moral conservation methods, and support for the reintroduction of native wildlife species demonstrate the commitment to the environment. The goal is to preserve critically endangered species including the cheetah, rhinoceros, and bontebok.
Sibuya is a symbol of commitment to safeguarding the beauty and diversity of the reserve's priceless environment.  Every aspect of guests' stay at Sibuya Game Reserve is carefully designed to provide a seamless fusion of luxury and sustainability. Travelers go on a trip that not only connects them to the stunning African landscapes but also to a deep dedication to preserving its exceptional natural heritage through every moment spent in the thoughtfully created camps.