Cape Country Routes Amazing Race – Experience Travel at its best!
Posted on Mon April 10, 2023.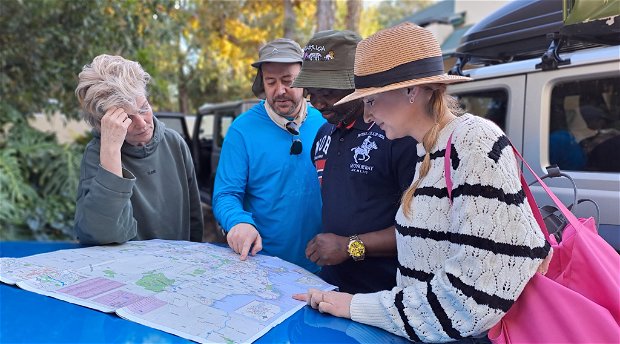 "What does the clue say? Where are we going?" That's how our Cape Country Routes Amazing Race kicked off…
4 teams of travel agents from around the world were invited to discover our scenic Routes - West Coast-, Wine-, Whale and R62 - and experience our hidden gems in a fun way road-tripping in Jimny 4x4's. It was an opportunity to shift perspective and find new, exciting travel experiences for their clients.
1200km...4 overnights...17 challenges…14 Cape Country Routes suppliers… 
Not having an itinerary prior to the event, not knowing what to expect…for many of them this was undoubtedly a bit of a challenge at first.  It's not something we are used to in a society that expects us to structure our lives, multi-task and plan our days effectively.  Just going with the flow, trusting the moment and opening up to new experiences (and many of them!) was something many of our participants had to get used to.  As the race evolved, the "living in the moment" idea turned out to be a real blessing…it was experience travel as its best!
Experience Travel – a travel trend that refers to more than just a relaxing holiday, it's about creating meaning through experiences we share.
When reflecting upon the success of the event, some aspects really stand out: 
Dealing with owner-run properties and activities, plays a very important role when creating these unique, authentic experiences.  The different personalities, passion for hospitality, the level of involvement and attention to detail, that is what really makes the difference.   Besides "Character, Charm and Romance", it's the owner involvement, hands-on management and personal guest liaison that form a trademark of all Cape Country Routes establishments.
What really lasts from an event like this are the connections that are created with others and the new insights that are gained from time away from the ordinary.  Working in the travel industry, many of us are blessed with opportunities to travel and see the most beautiful places.  However, some of these impressions don't always last long and are quickly replaced by another pretty setting or another fancy room….and that's not all that travel is about, is it?
What made this Amazing Race a truly meaningful experience was the opportunity to unplug from daily life by completely trusting in the adventure, living in the present moment, opening up to the unfamiliar and sharing the "awe moments" with like-minded travel friends.
"Life is a sparkling journey!"
(Quote by one of the race participants)