Cape West Coast – A pioneer in celebrating new beginnings
Posted on Thu August 3, 2023.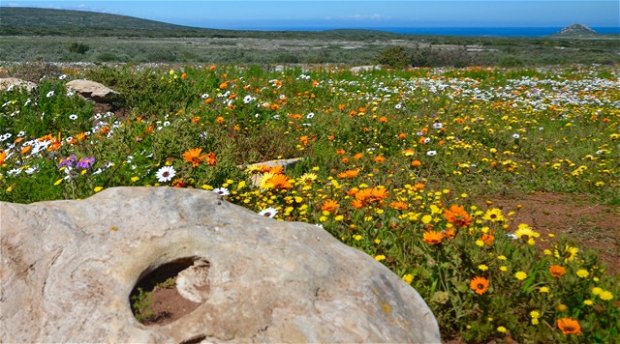 South Africa's 2023 Cape winter season was marked by above-normal rainfall for most parts of the province - the fruits of this can be seen in the earlier than normal flower season blossoming more each day. With spring almost around the corner, one can sense the excitement for the upcoming change of season and the many months of sunshine that await.
A Change of Colour: Darling Lodge Guest House
Spring – a season to "take root", make changes and initiate plans for new travel adventures.
The Cape West Coast is one of the prime areas in where to witness this change of season when wild flowers display their beauty celebrating new beginnings.   Experts expect an excellent flower-viewing season this year, and Cape Country Routes member, flower enthusiast, guide and co-owner of Darling Lodge Guest House, Oliver Studer, has this to say:
"In spring time, the Cape West Coast plays host to arguably the greatest flower show on earth when its hills and valleys explode into magical carpets of colours. Darling is one of the centre points within the Cape Biosphere - just one hours drive North of Cape Town - and celebrates the traditional wildflower blooming season since more than one hundred years with a variety of events.
The Darling Wildflower Society, the six wildflower reserves on private farmland in and around Darling and the local farmers play a critical role in the conservation of the few untouched remnants of fynbos and critically endangered renosterveld in the area.  The six Darling Wildflower Reserves are well signed and offer free access for all nature lovers. On the other hand, there are also guided walks with local flower experts and botanists available by pre-arrangement."
Oliver adds that "Darling Lodge Guest House is glad to help with ideas and advise to make your visit to Darling and amazing and colourful experience."

Blooming Paternoster
The Cape West Coast is also a pioneer in celebrating new beginnings in terms of sustainable and transformational tourism. Cape Country Routes member, Swedish-born entrepreneur and owner of Paternoster's first off-the-grid, eco-conscious establishment "Gonana Guesthouse", Jonas Sandström refers to "Embracing the today in sustainable design for a better tomorrow."  Being virtually off the grid, sourcing local and following best environmental and humanitarian ethics, Gonana practises what it preaches – every day. 
"If we want to enjoy earth's gifts, we need to also give back to her. And by doing so we give back to each other," says Jonas. 
Paternoster and many other coastal towns on South Africa's beautiful West Coast offer an environment to take some time out, unwind and decelerate, creating an opportunity to celebrate new beginnings, self-reflect and reconnect.  Treading a little lighter, embracing eco-conscious living and sustainability doesn't have to feel like sacrificing on the experience; it actually enhances it!
West Coast Activity Ideas
Besides the flowers, the charming West Coast towns have many other unique selling points:
Unspoilt and non-crowded beaches
World-renowned restaurants
Fun adventure activities such as kayaking, eBike nature tours, whale watching, horse riding
Exploring the many hiking trails through protected nature reserves home to various antelope, smaller animals and incredible bird life
Cultural tours at the West Coast Fossil Park and !Khwa ttu Nature Reserve - the "embassy" of the San

Flower Season Specials
Gonana Guesthouse is currently running a Flower Power Stay 3, Pay 2 Special across its Collection valid from now until end of September 2023.

Find more info here
Our members along the West Coast - Cederberg - Namaqua Route: