A positive outlook to 2021: Put "the routes" on your travel bucket list!
Posted on Thu July 30, 2020.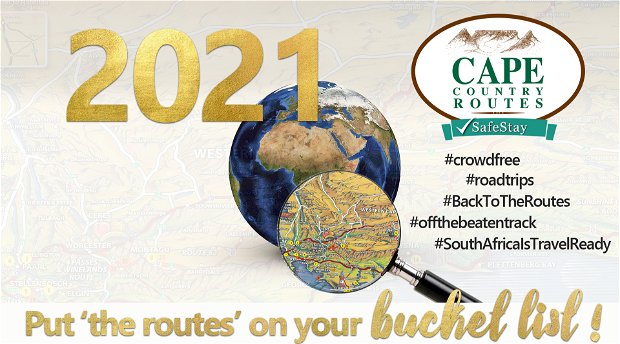 The saying goes "Never let your memories be greater than your dreams "...and this is so true! Memories are wonderful but it is the present moment that nourishes our inner joy and love for travel. The time will come when we can all travel again, when we can live our travel dreams and create new memories based on real time experiences. Let's start planning our next trip inspired by the many beautiful destinations South Africa and the Cape's Country Routes have to offer.
One thing is certain, we have all found a new appreciation for travel, we are no longer taking it for granted to be able to travel anywhere at any given time.  Freedom of movement has become one of the most precious gifts to anyone, and as we all know - if something is precious to you, you regard it as important and do not want to lose it.
As the Cape Country Routes collective we are confident that we can provide travelers with a #safestay during their holiday in South Africa.  Stringent health-focused Covid-19 protocols have been put in place across the board ensuring safety of guests and staff. These comprehensive protocols have been based on industry standards, aligned with international guidelines, and will be updated as required on an ongoing basis. Reciprocal visits between group members and regular virtual exchange ensure not only top-quality hospitality standards but also best practices with regards to health and safety procedures.
Within the group travelers can choose between 26 accommodation and activity products, all independently owned and owner-managed with great care and attention to detail, situated along the scenic and #crowdfree self-drive routes within the Western-, Eastern and Northern Cape.  Latest travel trends reveal that travelers look for self-drive options, far from the crowds, off the beaten track, surrounded by nature, enjoying space, exploring the hidden gems of their holiday destination.  They long for the 'real' experience in a world where social distancing has become a normality and the word #virtual is used in every third sentence. So join in on the #backtotheroutes movement and put Cape Country Routes on your 2021 travel bucket list!
"Africa changes you forever like nowhere on earth" as Brian Jackman describes it. Amazing sunsets, exciting safaris, culinary delights, inspiring diversity, outdoor activities…a place to reflect, reset and rejuvenate! We look forward to welcoming your smiling faces back in our country soon.  Here's to new adventures with Cape Country Routes in 2021 – #SouthAfricaIsTravelReady!