Meet the smile behind the mask...featuring Agulhas Country Lodge, Cape Agulhas
Posted on Fri November 6, 2020.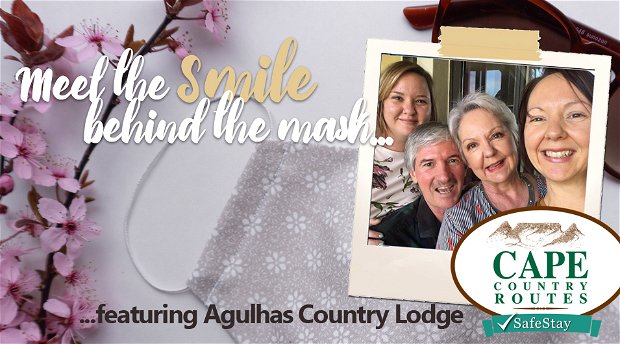 "Meet the smile behind the face mask" featuring Cape Country Routes Member Agulhas Country Lodge, Cape Agulhas
Interview with Owner of Agulhas Country Lodge: Sue Fenwick
All Cape Country Routes members, accommodation establishments and activity products alike, are owner run and managed. There are real people and real families behind these products...so let's meet the smile behind the face mask!
Please tell us a little bit about Agulhas Country Lodge, how it all started and what guests can experience when staying at the lodge nowadays?
Sue: We built the lodge with old materials 26 years ago. We were the first ever full-service guest house at the Southernmost Tip of Africa. Guests can experience an old-world charm with modern amenities.
If you had to name the top 3 experiences at Agulhas Country Lodge, what would these be?
Sue:
Stunning sea views
Airforce aviation and maritime themes
Warm hospitality, good food and comfy fireplaces – relaxed ambiance, very romantic.
Please tell us a little bit about your family and how your family members are involved in running the lodge
Sue: We are very much family run, we are still involved in the running of the lodge, our daughter, Chelsea is the General manager and does the day to day running of the business. I am the cook and design the menus for any dining and Phil is involved in marketing and various other business aspects.
What does warm hospitality mean to you?
Sue: A romantic, relaxed ambiance with great service, good comfort, a home away from home.
What is your vision for the lodge for the next 5 years?
Sue: We hope to be fully recovered from the pandemic and to keep on improving our property by doing some general upgrades. We hope to continue business as usual, improve our service, restaurant and vegetable garden 😊
If you look back at the year 2020 so far, have there been any positive experiences for you that you can build on as we all move forward?
Sue: The loyalty and the commitment of our family has most definitely been cemented. We are closer and more determined than ever before.
Do you have a favorite quote, inspiration or motto you would like to share with us?
Sue: "If there is any doubt, there is no doubt, make the right decision."  This quote has kept Phil alive for 20 years flying choppers in the air force and we still use it in our business today. Believe in yourself.

................
Agulhas Country Lodge is a paradise found at the southernmost tip of Africa in L'Agulhas. The elevated position of the lodge offers guests remarkable sea views from nearly every vantage point. Agulhas Country Lodge has 8 en-suite rooms all with sea-view balconies. The bar has beautiful enclosed balcony with stunning views of the sea. The lodge boasts a cigar lounge which has proved popular with guests for after dinner cognac and cigars.
If you like to read more about Agulhas Country Lodge, please click here