The Lady Stanford ... cruising down the river ...
Posted on Mon April 6, 2020.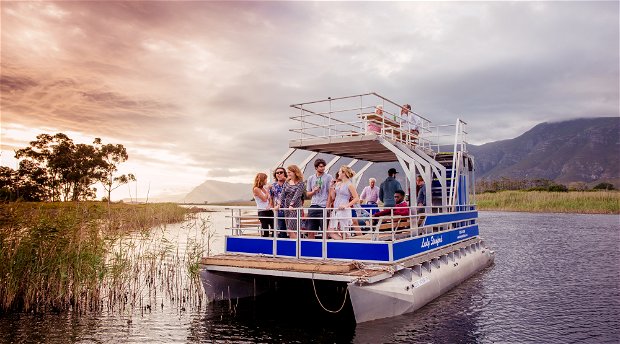 Cruising down the river on a Sunday afternoon

With one you love, the sun above waiting for the moon

The old accordion playing a sentimental tune

Cruising down the river on a Sunday afternoon

The birds above all sing of love, a gentle sweet refrain

The winds around all make a sound like softly falling rain

Just two of us together, we'll plan a honeymoon

Cruising down the river on a Sunday afternoon...
So go the words of the popular song - sung by Russ Morgan with the words and music written by Eily Beadell and Nell Tollerton in 1945 - of a bygone era.
And now in today's stressed world you too, can go cruising down the river on a Sunday afternoon (and any other day) - organise your family or your friends, and head down to Stanford for a leisurely boat cruise down the Klein River aboard the Lady Stanford.
Stanford, a quaint and historic village just 30 minutes from the seaside town of Hermanus, and 1.5 hours from Cape Town is ideally positioned for couples and families looking for a laid-back getaway with mountain views and the Klein River running through it.
The Lady Stanford, a modern, eco-friendly river boat with a quiet, four-stroke boat engine where no expense has been spared with regards to comfort and luxury, is a vessel that most definitely stands out from the rest. It is manned by a qualified skipper/interactive guide who knows the river intimately and all it has to offer, and who ensures that your cruise is a memorable one. 
A clever collaboration between De Hoop Collection, of De Hoop Nature Reserve (a 2.5 drive from Cape Town) and Grootbos Private Nature Reserve (a 2 hour drive from Cape Town) has resulted in a campaign aimed at encouraging their guests to take a pleasure cruise on the Lady Stanford on their way to and from the two properties.  
The river cruise winds its way gently along the tranquil Klein River from Stanford Village towards the Hermanus Estuary, and on the open upper and lower decks you can soak up a kaleidoscope of natural colours and the countryside set against a scenic mountain backdrop. 
You can also enjoy wonderful birding along the river - the region has an abundant birdlife; more than 250 bird species can be spotted in the wider Stanford area, of which 120, including majestic Fish Eagles, Greater Flamingos and the Blue Crane can be spotted around the river and the village. You may also be lucky enough to spot Giant Kingfishers, African Darters, Grebes, Herons, Osprey or the African Harrier-Hawk. A twitchers' delight!
Other attractions from your floating observation platform include otters, terrapin, fish, bontebok and horses grazing on the fertile river banks and the experienced and knowledgeable guide is happy to share his vast knowledge of the area and answer any questions you might have.  
The Lady Stanford is ideal for family or friends - it comfortably accommodates up to 26 passengers which makes it perfect for special occasions, social events and family gatherings.  It runs daily trips for individual passengers and is also available for exclusive charter and is equipped with various birding books and checklists, binoculars, blankets and a chemical toilet.
There are five scheduled cruises per day, depending on seasons and cruises can be booked on either a per person rate or exclusively.  The per person rate is R225 per person or the exclusive use of the entire boat -       R 3500 (maximum 26 people). 
Book your leisure cruise and experience all that the Klein River and its surroundings has to offer in a veritable Garden of Eden of fauna and flora – on board the Lady Stanford!
The Lady Stanford Reservations:
Tel: 0663749386 or 028 341 0358
Email: [email protected] or visit our website by clicking here.
Address: Slipway at the corner of Church and Du Toit Street. 
Directions: On entering Stanford take the first right on to Daneel Street; turn left onto Du Toit Street; follow Du Toit Street until you reach the slipway - Lady Stanford Boat is on your right.
About De Hoop Collection
The De Hoop Collection opened in the De Hoop Nature Reserve in the Western Cape in 2007 under the creative and entrepreneurial hands of Carl Trieloff and William Stephens, renowned for their successful Madikwe Game reserve developments. In a spectacular setting, with conservation aspects managed by Cape Nature, the reserve offers a wide range of accommodation types designed to suit all budgets.  The Reserve, in the Overberg region, is a comfortable three hours' drive from Cape Town on the world renowned Garden and Whale routes - the ideal stop-over en route from the Cape Winelands to Plettenberg Bay. Visitors to the De Hoop Collection enjoy unparalleled peace and tranquillity in what must be one of the Cape's last unspoiled gems. 
About Grootbos Private Nature Reserve
Grootbos Private Nature Reserve, Gansbaai, 170km south east of Cape Town between Hermanus and Cape Agulhas, is a leading example of sustainable eco-tourism and 5-star luxury in the Western Cape. This relaxing and beautiful spot overlooks Walker Bay and is surrounded by indigenous Fynbos (shrubs) and forest clad hills.