Meet the smile behind the mask...featuring De Zeekoe Guest Farm, Oudtshoorn
Posted on Sun October 11, 2020.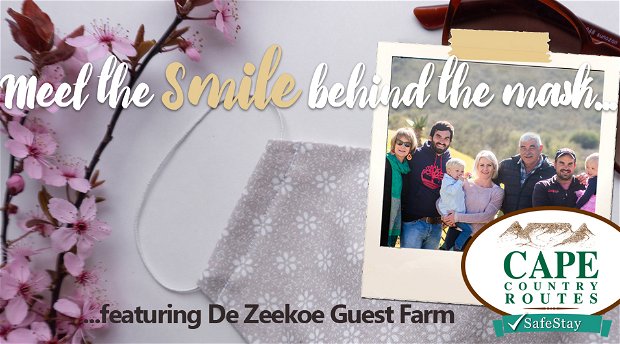 "Meet the smile behind the face mask" featuring Cape Country Routes Member De Zeekoe Guest Farm in Oudtshoorn
Interview with Owner of De Zeekoe Guest Farm: Paula Potgieter
All Cape Country Routes members, accommodation establishments and activity products alike, are owner run and managed. There are real people and real families behind these products...so let's meet the smile behind the face mask!

Please tell us a little bit about De Zeekoe Guest Farm, how it all started and what guests can experience when staying at De Zeekoe nowadays?
Paula:  De Zeekoe started 15 years ago. The KKNK was an opportunity for accommodation and our business grew organically.  Nowadays you find less people at de Zeekoe and we have all the necessary COVID-19 protocols in place.
If you had to name the top experiences at De Zeekoe, what would these be?
Paula:
1.  "Farm Life", our farm is only 10 km from town, with stunning views of mountains and the riverbed
2.  Meerkat adventures on our land
3.  Luxury accommodation
4.  Healthy food and good wines from the area
Please tell us a little bit about your family and how your family members are involved in running the guest farm.
Paula:  Our two sons are farming on De Zeekoe guest farm, they are farming Lucerne (alfalfa) and beef cattle.  Kristy, my daughter in law, is the general manager .
What does warm hospitality mean to you?
Paula:  For me hospitality means feeling at home at an establishment, making each and every person always feel welcome and special and going the extra mile with a little bit of pampering.

What is your vision for the guest farm for the next 5 years?
Paula:  De Zeekoe should be on everyone's lips and we believe that the farm will recover financially, by the Grace of God.

If you look back at the year 2020 so far, have there been any positive experiences for you that you can build on as we all move forward?
Paula:  Covid was not good for us financially but the time we had together as a family was very special and positive.  Spiritually it was the best time ever.
Do you have a favourite quote or two - inspiration or motto - you would like to share with us?
Paula:
Isaiah 58:12 – And your ancient ruins will be rebuilt; you shall raise up the foundations of buildings that have laid waste for many generations and you shall be called Repairer of the Breach, Restorer of Streets to dwell in.
Listen to the silence , says old Africa , and you will discover that it is music – French poem
................
De Zeekoe Guest Farm is situated only 7km outside Oudtshoorn in the Garden Route. This lusern farm is surrounded by the famed Swartberg and Outeniqua mountains and is part of the "world's 17 "hot spots" with 3 overlapping flower zones. De Zeekoe's unique charm is that it offers guests exceptional activities including the famous meerkat adventures that provide distinct experiences. The luxurious bed & breakfast accommodation offers guests a choice from luxurious rooms at the main House to private stone cottages situated 5 minutes from the main house.
If you like to read more about De Zeekoe Guest Farm, please click here