How to have the ultimate relaxed break at The Lofts
Posted on Mon March 9, 2020.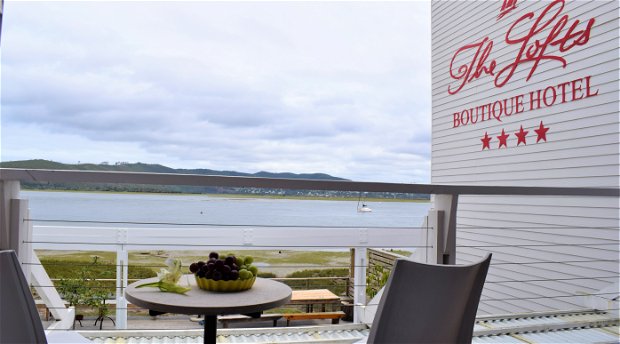 It's been a great start to 2020, you started your 'New Year New You' resolutions, the financial year has come to an end and now you're drained. A stay on an island, in Knysna is the perfect way for you to unwind.
Start your ultimate relaxed break by booking your accommodation.  A relaxed break, in our opinion, means you need to get a lot of sleep, you should pamper yourself and you need to switch your mind off from the hustle and bustle.  So, upon booking your stay with us, we recommend choosing an Exclusive Lagoon Suite.  These suites are all uniquely decorated with different layouts and western views overlooking the Knysna Lagoon.  Some have balconies and others have large sliding doors that open all the way to let in fresh lagoon air.  All of our rooms have extra length beds and the highest quality cotton percale 200 thread count linen that feels amazing once you crawl into them.
Upon arrival The Lofts Team seamlessly checks you in and offers information to assist in ensuring your stay is comfortable.  Take advantage of this and ask them to reserve your dinner spots at one of the following restaurants.  These are all within walking distance from the hotel. 
Our recommendations on Thesen Island are: 
+ Sirocco 
+ Tapas & Oysters 
+ The Exchange
Or a little further at the Knysna Waterfront:
+  O'Pescador
+  Caffe Mario
+  Asami 
+  34 South
A walk after a long drive and a stressful season will loosen the limbs and the views on the walk is not a bad way for your senses to relax.
Start your days with a lie in.  Order breakfast in bed.  We suggest ordering our poached eggs topped with our special crème fraiche sauce and olives on ciabatta toast.  Or sleep in late, skip breakfast and grab some lunch in our Atrium.  Our light lunch options are made with quality seasonal ingredients.  Two of our Atrium specialities is our Bobotie made with Karoo Lamb mince and our Chicken Mayo sandwich on ciabatta - the chicken is slow cooked in sauvignon blanc and a variety of spices ensuring every bite is a juicy one.
Relaxed Activities during your stay
A full body aromatherapy massage can really help loosen your muscles and will allow your senses to unwind. Le Spa Tranquille offers a range of great treatments.  Our guests have suggested enjoying a sauna session followed by a Vichy Sea Salt Scrub and then they end it off with a 90min full body massage.  This should leave you feeling tranquil and serene.
Watch the waves break and catch some much-needed Vitamin D and visit one of the beaches close by for a morning stroll or spend the day there.  Our recommended beaches to visit:
+  Buffalo Bay
+  Bollard Bay
+  Keurbooms Beach
You're also able to rent kayaks and paddle into Thesen Islands via the water canals where you can park, take a dip and build a sandcastle on one of the lagoon beaches within the residential area of the island.
End your day with a sunset lagoon cruise on a yacht, catamaran or pontoon.  Several of these options leave from the island or the waterfront.  Herewith our recommendations:
+ Springtide Charters 
+ Ocean Sailing Charters
+ The Waterclub 
Does this sound like exactly what you need right now?  Go ahead and give our reservations team a call and book your stay with us:  +27(0)44 302 5710 or email: [email protected].