Eendracht Hotel: "Best of the Best"
Posted on Mon November 11, 2019.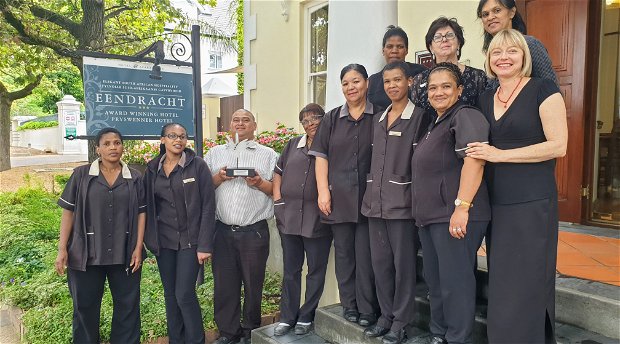 Eendracht Hotel in Stellenbosch was presented with the prestigious Lilizela Award on Saturday for Best Small Hotel in South Africa.

The annual Lilizela Tourism Awards Ceremony hosted by the Minister of Tourism Mmamoloko Kubayi-Ngubane has taken place on Saturday, 09 November 2019, at the Sun Square Arena in Pretoria, honouring excellence in South Africa's tourism and hospitality industry - which drives the industry to levels of greatness through providing the highest standards of service excellence.
"I am very happy, and we deserved a win. We worked very hard to keep the hotel clean and tidy and keep the guests happy." Carlo van Niekerk, Porter/Gardener and one of the longest serving workers at Eendracht.
Last year Eendracht has undergone a total refurbishment and the personnel was eager to participate in the Lilizela Awards this year. Earlier this year Eendracht was also awarded the Traveller's Choice accolade from TripAdvisor for the sixth year in a row for Best Value Hotel in South Africa.
"I am very proud of my staff who worked so hard to always have everything. ready for our guests. We will carry the honour with pride and try to be ambassadors for Stellenbosch and South Africa." Daniel Lutz: Owner of Eendracht Hotel & Apartments
Eendracht Hotel was built and founded by Daniel Lutz in 1996. On 1 March 1997 it opened its doors as Eendracht Hotel. The Hotel consists of 13 rooms in the main building, as wel as 3 self-catering units in a historic house nearby.
This village hotel is perfectly located in the oldest part of town, in Dorp Street, Stellenbosch. There are more than 60 plus places to eat within 5 min walk from the hotel. All the main museums and attractions, including the University, are within 10 mins walk.
From the onset, the Eendracht team was environmentally conscious and our newest enhancement is a solar power system with battery backup. If the sun is shining, we use solar power instead of Eskom's and when Eskom fails, the lights stays on with our battery backup system! No more load shedding for Eendracht's Guests!
Eendracht is very fortunate to have received the Travellers Choice award from TripAdvisor for the sixth year in a row! This year we they are 13th in South Africa! They also recently received rewards from AfriStay and HotelsCombine.
Initially guests' book at Eendracht, due to their prime location and perceived quality, only to return time and again because of their award-winning service.
#visitStellenbosch
About the Lilizela Tourism Award
Launched in May 2013, the Lilizela Tourism Awards aim to recognise and reward the highest levels of excellence in the tourism value chain. The name is derived from the Zulu word ''Lilizela'' which means celebrating and praising by ululating when someone has done well. These awards are an initiative of the National Department of Tourism (NDT); spearheaded by South African Tourism and delivered by the Tourism Grading Council of South Africa.
These awards recognise and reward tourism players and businesses who work passionately and with pride to deliver a world class product and service and whose delivery grows South Africa's global destination competitiveness.
Image
From left to right (front):  Leticia Mcaba, Phumla Fethani, Carlo van Niekerk, Shirley Josephs, Sally Plaatjies, Tashlene Jordaan, Carmen Cupido, Wilmi de Villiers. Back:  Amanda Mangcam , Michelle Idzik, Hazel Hippolyte